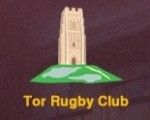 Tor Rugby Minis and Juniors 2016-2017 Registration
Tor Rugby is in Glastonbury. We run fun and inclusive Mini and Juniors sessions on Sunday mornings at 10.30 for children in reception year onwards.

First two sessions free!

The fees for the season are:
£15 for a non-playing parent. One parent must register per family.
£40 for each child in the U7 or above age group (school year 2 or above)
£25 for each child in the U5 or U6 age group (reception or year 1)

Includes Tor match top (U7 and above) or training top (U5/U6)

Note: the U5/U6s do not train when older age groups are playing away.

This form should be completed by a parent or guardian with responsibility for the registered child.
Begin Registration